Package Delivery
Packages arrive to the University by the hundreds, Monday through Friday. Delivered to a central sorting facility by USPS, FEDEX, UPS, and DHL.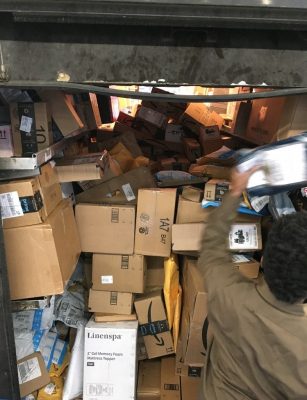 Packages are then scanned by OCR cameras that compare the addressee's last and first name, as well as the housing assignment, to data that we receive daily from Housing Services.
Our system then creates a unique barcode for the package and prints a blue/green sticker that includes the student's full name, housing assignment, and mailroom location.
Packages are then sorted by mailroom and every afternoon around 2:30pm are delivered by University staff to their assigned location.
Student staff working in the mailrooms will then scan the packages to a barcoded shelf in a mailroom which will trigger an email notification to the recipient that a package is available for pick-up at the indicated mailroom.
Once a student is notified that they have a package available at the mailroom they can bring their University ID to the mailroom and request their package.
Students must pick up their own packages.
Letter Mail Delivery
Letter mail is delivered Monday through Friday to mailrooms.
Staff place all letter mail in mailboxes Monday through Friday.
Residents should check their mailbox regularly for mail. No email notices are sent for letter mail.
Incorrectly Addressed Mail and Packages
If a portion of the addressee's information is missing (first or last name, hall or room #) this will delay delivery of that piece of mail.
The parcel may be returned to sender if staff is unable to ascertain who the intended person is for delivery.
Street addresses should not be included in addresses for residence halls other than Mansfield and Northwood apartments which are served directly by USPS, FEDEX, UPS and DHL.
Saturday and Sunday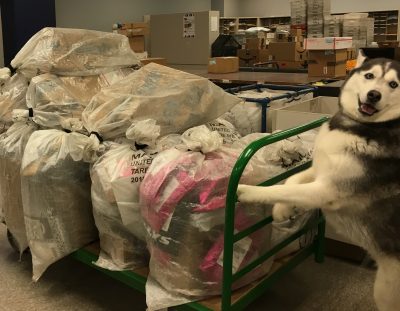 Mail and packages are delivered to UConn Monday through Friday.
Carriers are unable to deliver packages to the University on weekends, holidays and during weather cancellations as the sorting facility is closed.
Saturday and Sunday deliveries will arrive to campus on the following Monday.
Carriers may notify intended recipients that a package was attempted to be delivered over the weekend but failed. This is because they must note the attempted delivery when a certain delivery date was originally promised when ordering/shipping a package. They will likely attempt delivery on the next business day.
Overnight/Express packages sent by UPS, FedEx, & USPS Express Mail
US Postal Service Express Mail will be accepted at the sorting facility Monday through Friday. Express Mail packages due for delivery on weekends will not be delivered to campus until Monday.
Students who would like to pick up Express Mail packages on Saturday from the Storrs Post Office should call the Post Office at (860) 429-9681 on Saturdays between 8:00am – 9:30am to have them hold it aside for pickup.
UPS or FedEx Overnight packages should be sent STANDARD Overnight, not Express Overnight. We recommend that you do not pay for the Express Overnight service, as no packages will be delivered before the mailrooms are scheduled to open. STANDARD Overnight and Express Overnight packages will be delivered to the mailrooms at the same time all other packages are so there is no need to pay extra for a service that will not result in a quicker delivery.
No Longer Living On-Campus?
Packages and mail arriving to UConn, addressed to a person who is not currently residing on-campus, will be returned to sender the same day.
Only current on-campus students may receive mail and packages through University Mail Services and Student Mail Services.
Our mail system utilizes a daily feed from Housing Services to assure we are delivering packages to the correct student at the correct mailroom.

Persons no longer residing on campus will not be included in this information as they do not have a current housing assignment.